Project Overview
The Montana Department of Transportation (MDT) and engineering firm, Robert Peccia & Associates (RPA) have been evaluating the intersection of Highway 200 and Highway 83, more commonly known as Clearwater Junction, for safety and operational improvements. Several crashes have occurred at this intersection, and traffic congestion is common during the busy summer months.
In addition to local traffic, Clearwater Junction is a connection point for travelers from Helena, Great Falls, Missoula, the Flathead Valley, and the numerous small towns in between. Thousands of tourists and commercial trucks travel through the intersection every day. Clearwater Junction is a popular stopping point for many travelers because of the access to fuel, a convenience store, an MDT rest area, a truck weigh station, and the busiest watercraft inspection station in Montana.
This project aims to reconfigure the intersection to improve safety and traffic flow for all highway users. The evaluation process included cost considerations, funding sources, timing, and both benefits and impacts to the area.
After evaluating several intersection alternatives, the project team has determined that a roundabout is the most appropriate alternative for the intersection.
Alternatives were evaluated using criteria from a process called an Intersection Control Evaluation (ICE) as outlined by the Federal Highway Administration (FHWA). The project team applied the criteria to each alternative to determine whether the alternative would address safety and operational concerns.
Does the alternative improve safety performance?
Does the alternative improve operational performance?
Does the alternative consider pedestrians, bicycles, and other users?
Does the alternative fit with the given site characteristics and context?
Does the alternative address the project purpose and need?
The project team considered the following alternatives.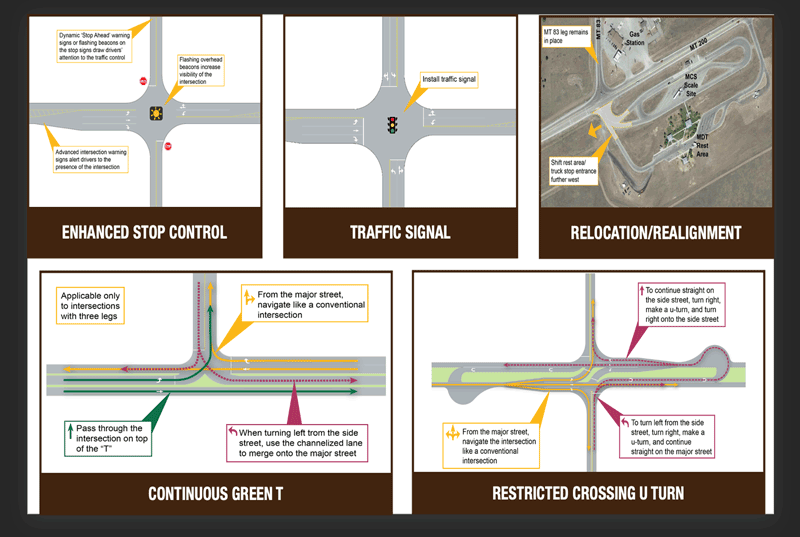 The graphic below shows how these alternatives are compared based on the ICE criteria.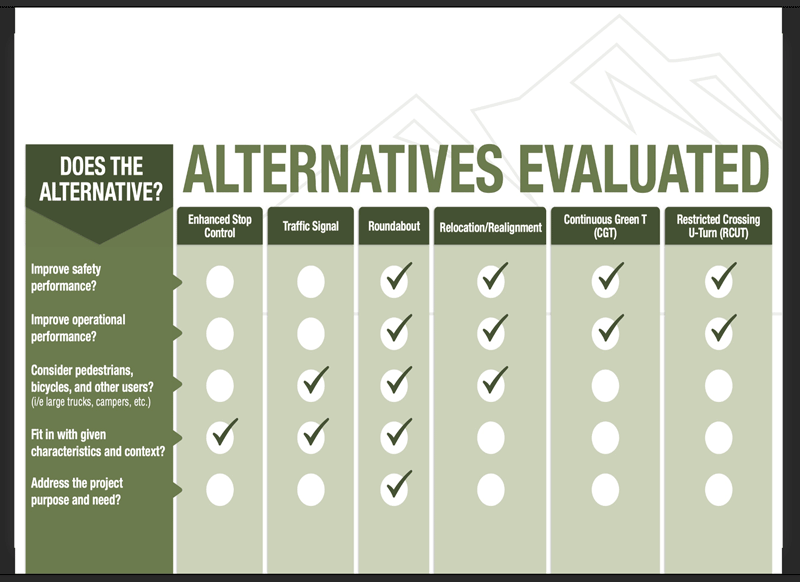 A roundabout is the only alternative that meets all the ICE criteria. Not only will a roundabout improve traffic operations, but it will also improve safety at the intersection. Roundabouts have a proven track record for reducing fatal crashes by more than 90%, injury crashes by 70% and overall crashes by 37%. This occurs because roundabouts slow traffic and reduce the likelihood of right-angle crashes.
Roundabouts can be constructed to accommodate large vehicles as well. Commercial trucks, farm equipment, and trucks pulling campers and boats can navigate the roundabout by driving on the mountable apron.
A roundabout allows traffic to continue to flow during peak and off-peak periods.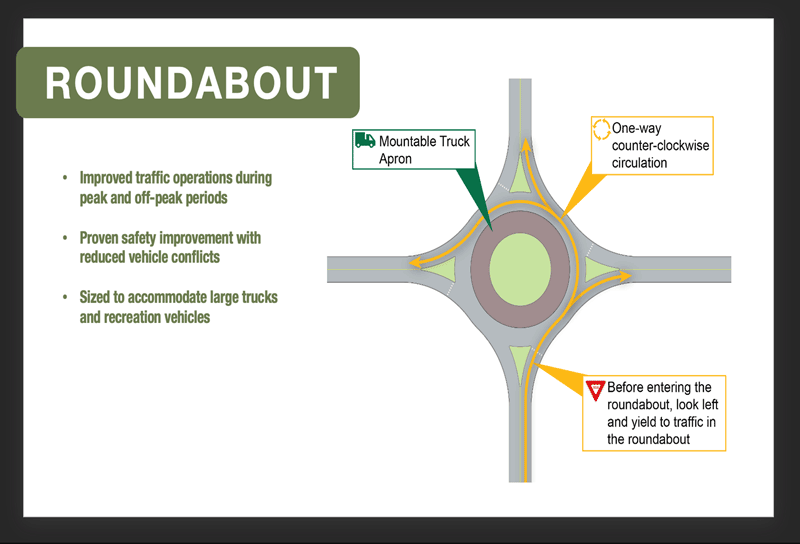 Now that a preferred alternative has been selected, the project team will begin design plans for the intersection. There is no set date for construction to begin. The design phase will need to be completed, and funding will need to be identified before construction gets underway. This process can take several years to complete.