Project Overview
The project is located in Missoula County on Montana Highway 83 and begins at Reference Post (RP) 9.0, about 1.1 miles south of Placid Lake Road, and just north of Salmon Lake. It extends northerly 4.1 miles to RP 13.1, about 0.2 miles south of the town of Seeley Lake. The beginning of this project will tie into future construction project, Salmon Lake, which is tentatively scheduled for construction in 2022 and 2023.
The project will reconstruct the road, which will provide improvements in the form of a new roadway surface, wider shoulders, turn lanes, safer roadside slopes, and a new bridge. The project includes the following safety improvements:
Constructing turn lanes at the Placid Lake Road, Double Arrow Ranch Road and Wagon Wheel Road intersections
Straightening the roadway alignment, where feasible
Replacing the bridge over Morrell Creek
Constructing a shared use path from Double Arrow Ranch Road to the northern end of the project
Other work will include tree clearing, guardrail upgrades, signing, flattening roadside slopes where possible, and increasing ditch size to better handle snow storage, drainage, and rockfall
Due to the highway's location in this popular recreation and tourist area, MDT is committed to working closely with the public and stakeholders throughout the design and construction processes. There will be several opportunities to engage with the project team, and MDT encourages you to get involved, share your input, and learn more about this important highway improvement project.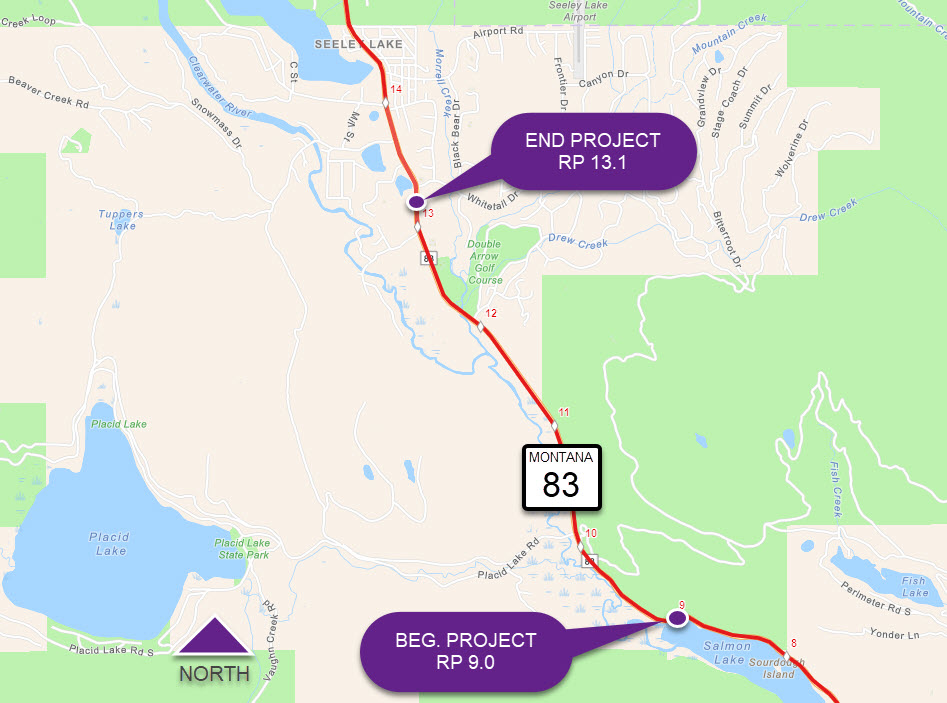 Seeley Lake – South Highway Reconstruction Project Map
Click to view a larger map
Interactive Map
The interactive map depicts the project extents and provides project website links for three separate Seeley Corridor projects, including Clearwater Junction Intersection, Salmon Lake Highway Reconstruction, and Seeley Lake - South. Click on an item in the list and it will zoom to project extents. The Project Website button will redirect to each project's main website. The pop-up map will appear when you click directly on project extents.
HIGHWAY 83 UPDATE:
The Montana Department of Transportation Maintenance Division performed an asphalt overlay of the existing roadway on Highway 83 within the project limits of Seeley Lake – South in mid-September 2022. The Maintenance project was intended to maintain the existing roadway surface until the Seeley Lake - South project is constructed. The Maintenance project was not associated with project Seeley Lake - South.
STPP 83-1(24)9
Seeley Lake - South
UPN 1233001