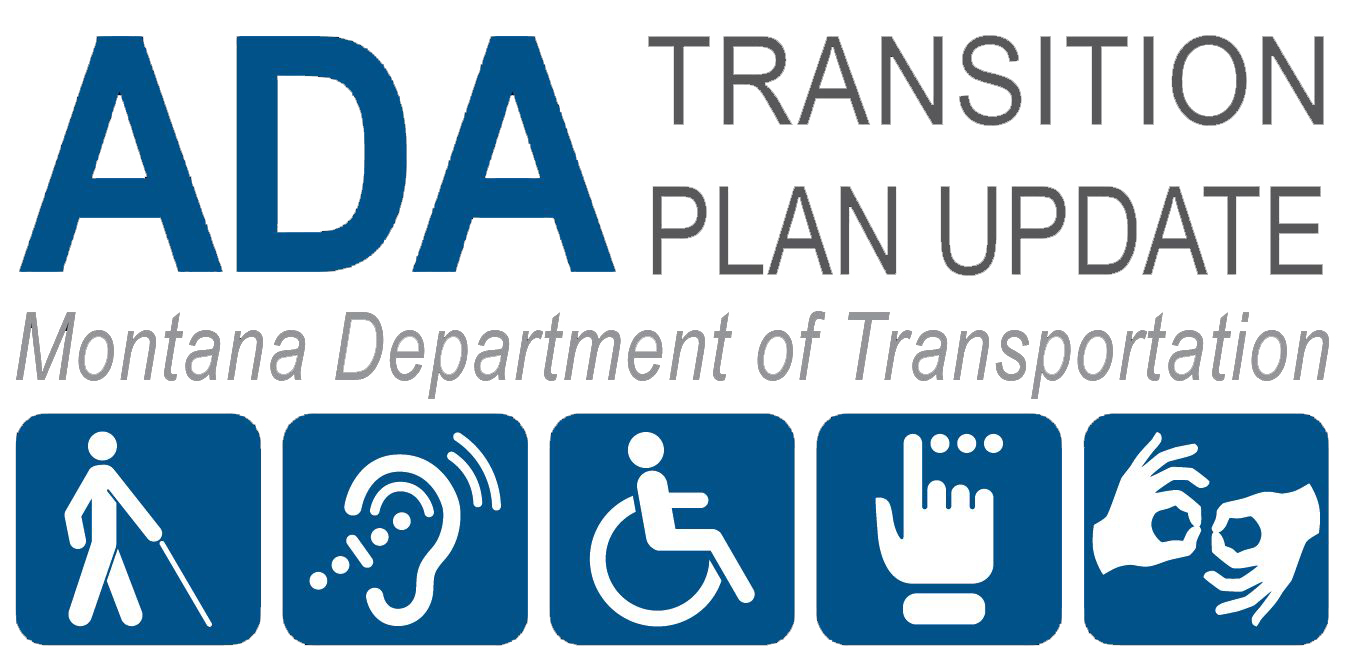 Why prepare a statewide ADA Transition Plan?
MDT's mission is to serve the public by providing a transportation system and services that emphasize quality, safety, cost effectiveness, economic vitality, and sensitivity to the environment. In fulfilling its mission, MDT recognizes the importance of providing equitable access to all transportation system users. Accessible building facilities and rights-of-way provide critical access to employment, health care, education, and government services. Equitable access for people with disabilities facilitates independence and self-sufficiency, quality of life, participation in the work force, and meaningful social and economic contributions to society. The MDT transition plan is an important step in helping MDT eliminate barriers and provide equitable opportunities for disabled individuals to use MDT programs, rights-of-way, and building facilities.
What is the purpose of the plan?
The purpose of the plan is to provide guidance for removal of accessibility barriers in the public right of way on State of Montana maintained routes and in MDT's public programs and services. The plan provides an overview of MDT's external ADA program, outlines MDT's mission and ADA policy, and identifies methods to assist MDT in complying with ADA regulations. The plan is intended to be a living document to reflect the current MDT ADA program and compliance status.
Why is an updated needed?
Since the last plan was completed in 2016, MDT has experienced routine staffing turnover, and a new administration began leading the department in January 2021. These staffing and administration changes lead to the potential loss of some institutional knowledge that may require additional education and outreach, coupled with an opportunity to consider new perspectives, approaches, and priorities for ADA compliance and program management.
Additionally, an update is also needed to ensure the plan provides communication of MDT practices and to ensure that it complies with Federal Highway Administration (FHWA) guidance and requirements. This update is important to ensure that the plan continues to provide a consistent, repeatable, and recognized methodology to be used as a tool for MDT efforts to remove accessibility barriers.
What has been done since the last plan was completed?
From 2016 through 2020, MDT has continued to collect ADA inventory data and has developed new statewide plans and studies that complement and influence the ADA program. Additionally, over the past several years since adoption, MDT has had an opportunity to implement the transition plan and continue conversations with staff and stakeholders about potential process improvements and refinements. These efforts have helped MDT make significant progress in addressing accessibility throughout the state.
MDT maintains a geodatabase of ADA right-of-way features. The database enables MDT to query data, provide data sets in output summaries, conduct annual reporting, and identify progress toward compliance. The online database information can be found here. Alternative accessible formats are available upon request.
Who is developing the plan update?
While MDT is the contracting authority for this planning effort, the plan is being developed with input from FHWA along with the public and stakeholders. An advisory committee of federal and state officials and representatives from the disability community will help guide the plan update. Input from technical experts, key stakeholders, and the public will be solicited throughout the planning process to provide perspectives from their areas of interest and expertise regarding accessible programs, rights-of-way, and building facilities. Robert Peccia and Associates (RPA) is assisting the planning partners in competing the plan update.
What is included in the plan update?
The MDT transition plan addresses requirements relating to physical assets, including right-of-way features and facilities within state-owned MDT right-of-way. Additionally, the MDT transition plan addresses other elements outlined in Title II of the ADA related to MDT administration, communications, and maintenance functions.
For the purposes of this plan, facilities are defined to include MDT district and headquarters office buildings, rest areas, airports, maintenance buildings, and Motor Carrier Services (MCS) scale sites. Right-of-way features include elements such as curb ramps, sidewalks, crosswalks, median crossings, and pedestrian-activated signal systems. Features and facilities owned by local governments and private entities are not addressed in this plan.
What steps are involved in the plan update process?
The planning process will involve three phases.
During the Discovery Phase, the planning team will gather information about how MDT's ADA Program currently functions, staff roles and responsibilities, changes or issues identified since the 2016 plan, and any related needs, challenges, and areas for improvement. In addition to research and conversations with MDT officials, a public survey and stakeholder interviews will be conducted to learn about external perspectives and concerns.

The Synthesis Phase will involve identification of process improvements and new priority areas for the plan update. These findings will be directly influenced by public and stakeholder input.

The Documentation Phase will be the culmination of the planning effort, with research, findings, and recommendations incorporated in the updated 2021 ADA Transition Plan Update. The plan will reflect best practices, commitments, and updated actions and strategies for addressing accessibility barriers in the MDT transportation system.
How can I submit a comment about a specific barrier location?
This plan update is focused on statewide program methodologies to assist MDT in complying with ADA regulations. The plan will not address specific projects or barrier locations. However, MDT welcomes comments at any time related to accessibility barriers on state-owned facilities. Comments can be provided in the following ways:
Online Comment Form (select ADA Related Topic in the project dropdown list)
Contact Matt Maze, External ADA Specialist

Email: mmaze@mt.gov
Phone: 406-444-5416 or Montana Relay Service at 711.
Mail:
Montana Department of Transportation
Office of Civil Rights
PO Box 201001
Helena, MT 59620
How can I contribute to the planning effort?
This update is intended to be a collaborative process with MDT, FHWA, stakeholders, and the public. Announcements will be posted to this website about opportunities to share feedback on accessibility-related transportation issues and needs and on the draft plan. Additionally, dates, times, and formats of public engagement opportunities will be announced through the local media, MDT's social media channels, and an electronic mailing list.
To join the email list for this plan update, please contact the individuals listed on this website. The project team will collect and consider all public comments throughout the planning process to better understand concerns.