Project Overview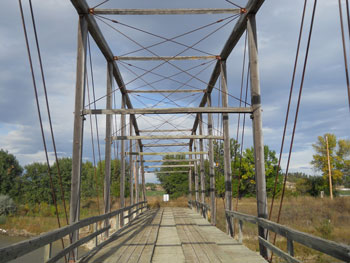 The Montana Department of Transportation will be replacing the existing out-of-service Goffena Bridge, a timber truss structure over the Musselshell River.
As bridge design progresses, public input is encouraged and appreciated. Public meetings were held on October 22, 2020. If you were unable to attend and have thoughts or comments related to the project, please contact Public Involvement Manager Lisa Olmsted at 406-869-6329 or lolmsted@dowl.com.
Construction of a new bridge is planned for 2024 and will be located on or very near the existing location. We are currently in the planning and design phase of the project; the following map/illustration notes some of the key project considerations.
Click to view a larger image.
This bridge, also known as Brockway Ford Bridge, is possibly the last remaining timber truss in the state of Montana. Unfortunately, it was damaged and ultimately closed in 2003 by Musselshell County due to structural deficiencies. The County intends to salvage parts of the structure in recognition of its historic significance. Learn more about the bridge's history in the recent Newsline article by Jon Axline (page 7).
For more information regarding project specifics, please contact us at the contact information provided.