July 2022 update for Jackrabbit – Madison to Main project
The Jackrabbit – Madison to Main project continues to move forward.
The project team has completed preliminary field work, including geotechnical studies. The next steps include preparing an analysis of alternatives for the project area. This analysis will determine whether the Montana Department of Transportation will build a railroad overpass or underpass to connect to the surrounding roadways.
The project team is committed to moving this effort towards a final design as swiftly as possible.
Our team will be in touch with more updates as these milestones are reached. In the meantime, if you have comments or questions, please feel free to reach out. You can call 406-207-4484 or email Becca at beccaXYZbigskypublicrelationsABCcom.
The public is encouraged to reach out with thoughts and questions at any time by calling 406-207-4484, Monday through Friday from 9 a.m. to 5 p.m., or by emailing beccaXYZbigskypublicrelationsABCcom.
Project Overview
Belgrade residents have seen their community grow in many ways within the past few years. Coupled with development throughout the Gallatin Valley, there are several outstanding infrastructure needs that must be met. To provide long-term solutions to meet these needs, the Montana Department of Transportation (MDT) plans to widen a half-mile stretch of the highly-trafficked Jackrabbit Lane and construct a railroad underpass or overpass on Jackrabbit Lane by Main Street as part of the Jackrabbit – Madison to Main project.
Currently, this area has limited capacity roadways, no sidewalks, and congestion that increases during times of train travel. This baseline is not appropriately serving the community's needs. It has not kept pace with growth and certainly will not accommodate Belgrade's projected development.
The Jackrabbit – Madison to Main project will extend from the intersections of Madison Avenue and Main Street. Along this corridor, the existing three-lane road will be transformed into a five-lane facility with two lanes of travel in each direction, in addition to a center turn lane. A railroad underpass or overpass will also be constructed to allow vehicles to travel over and under the railroad tracks on Jackrabbit Lane without stopping. New curbs and gutters will be installed and sidewalks will be added, bringing this stretch of roadway into compliance with the Americans with Disabilities Act (ADA).
In addition, new right-of-way and the relocation of utilities will be required. MDT is dedicated to working with all potentially affected landowners prior to performing survey work and/or construction regarding property acquisition and temporary construction permits. These are community projects that can only be successfully accomplished if the project is representative of our community's values.
Maps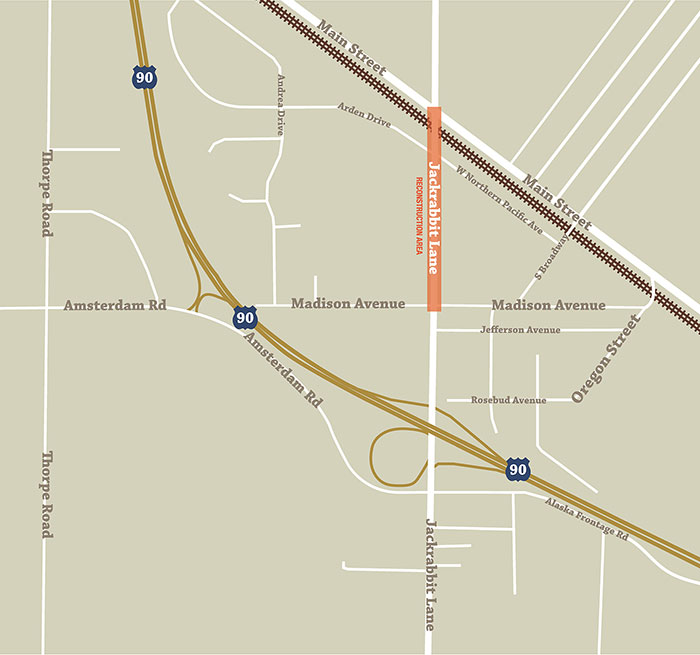 Click to view the PDF.
Click to view the PDF.
Project Changes
Jackrabbit – Madison to Main was originally developed without the separated train crossing (underpass or overpass). Meanwhile, Belgrade has been growing faster than ever before. Community concerns have been heard regarding how traffic would move as more subdivisions are being built near this major thoroughfare. Residents and community members called for a long-term solution to train traffic to supplement widening the roadway.
MDT took these concerns seriously and conducted a risk assessment in 2019, identifying the risks associated with building a structure and determining if construction would be feasible. MDT staff worked closely with local leaders on the decision to include this structure as part of the Jackrabbit – Madison to Main project.
This meant many changes for the project. Planned traffic signal upgrades, originally associated with this project, are now tentatively set to occur ahead of other improvements. This will help traffic move more smoothly during reconstruction of the portion of Jackrabbit Lane between Madison and Main Street. MDT and it's consulting partners will develop project plans and look for funding to fully complete the project, including the new train structure.
The Jackrabbit – Madison to Main project now sits outside of MDT's current five-year funding plan, and it will take time to develop project plans and to secure funding. Cost estimates to do this work have increased substantially, as building a separated train crossing is no easy feat. It will take significant time to survey the land, develop and review project plans, work with landowners on right-of-way, and secure environmental permits.
Process
Click to view a larger image.
As the project moves through these important phases, MDT encourages residents to reach out with thoughts to help shape project elements such as detour routes, impacts to the traveling public, safety concerns and the needs of commercial and agricultural vehicles.
We recognize the impacts of construction on businesses, residents, and travelers and are committed to mitigating those challenges by delivering practical and timely information. Construction plans are not yet set. However, once construction starts, it will be in phases to limit disruptions. The following resources will provide important updates as planning moves forward.
For regular project updates:
Email updates: Contact Becca at beccaXYZbigskypublicrelationsABCcom to subscribe.
SMS texting updates: Text BELGRADE to 41411.
Project hotline: 406-207-4484 during business hours.
UPN 9057000