Project Overview
The Montana Department of Transportation (MDT) has contracted with Morrison-Maierle to design the Belgrade Urban project that is currently in the preliminary design phase. Schedule for completion of the design is currently unknown, as collaboration with project partners is still in the early stages. Building a good road takes time, and MDT is moving project development along as swiftly as possible. The timelines are contingent on factors such as funding availability, right of way activities including negotiations and acquisitions, utility relocations and development of multiple Belgrade area projects. More details are included below.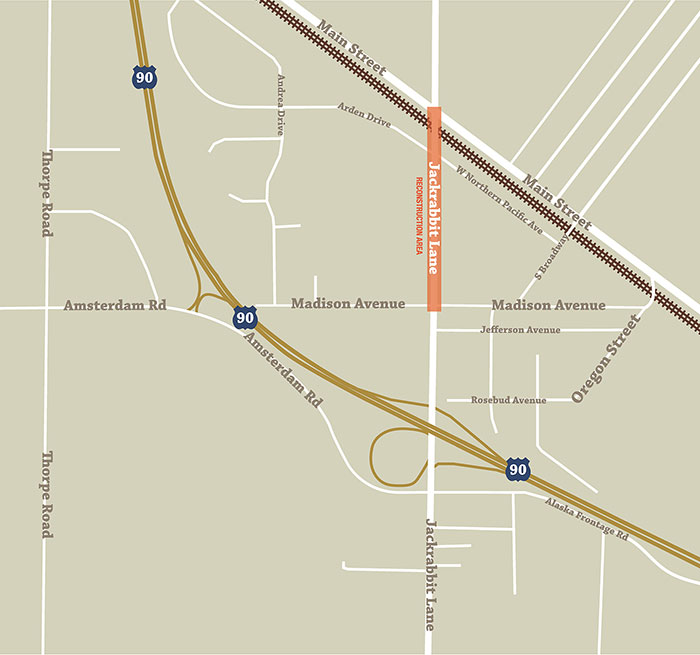 Click to view the PDF.
Belgrade residents have seen their community grow in many ways within the past few years. Coupled with development throughout the Gallatin Valley, there are several outstanding infrastructure needs that must be met. To provide long-term solutions to meet these needs, MDT plans to widen a half-mile stretch of the highly-trafficked Jackrabbit Lane and construct a railroad underpass by Main Street as part of the Jackrabbit – Madison to Main project.
Currently, this area has limited capacity roadways, no sidewalks, and congestion that increases during times of train travel. This baseline is not appropriately serving the community's needs. It has not kept pace with the growth of the community and cannot accommodate Belgrade's projected development.
The Belgrade Urban project will begin at the intersection of Jackrabbit Lane with Madison Avenue and extend to Main Street. Along this corridor, the existing three-lane road will be transformed into a five-lane facility, with two lanes of travel in each direction, in addition to a center turn lane. A railroad underpass will also be constructed to allow vehicles to travel under the railroad tracks on Jackrabbit Lane without stopping. New curbs and gutters will be installed, and sidewalks will be added, bringing this stretch of roadway into compliance with the Americans with Disabilities Act (ADA).
Periodic updates will be provided via email, text and listed on this webpage as progress continues.
For regular project updates:
Email updates: Contact Becca at beccaXYZbigskypublicrelationsABCcom to subscribe.
SMS texting updates: Text BELGRADE to 41411.
To sign up for text updates, text BELGRADE to 41411. Message and data rates may apply. Message frequency may vary. Text STOP to cancel. Texting alerts are not managed by MDT and may have different privacy and security policies. For more information, see: https://smstc.us/t41411/
Project hotline: 406-207-4484 Monday-Friday, 9 a.m. to 5 p.m.
UPN 9057000