Summit
Committees, Teams, and Working Groups
Guiding Documents
Summit Presentations
Contact Us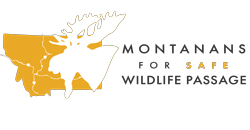 ---
Summit
The Montana Wildlife & Transportation Summit (Summit) was held on December 4 and 5, 2018 at Carroll College in Helena, Montana. It was co-convened by the Montana Governor's office, Montana Department of Transportation (MDT), Montana Fish, Wildlife and Parks (FWP), Western Transportation Institute (WTI), and Montanans for Safe Wildlife Passage (MSWP). The purpose of the Summit was to bring stakeholders together to strengthen working relationships, share information, and develop strategies to plan and implement wildlife accommodations; reduce animal-vehicle collisions; and protect wildlife and their movement across state highways. The emphasis of this first meeting was to build common ground among MDT, FWP, and the NGOs around wildlife and transportation issues in order to enable a more robust engagement of additional interested stakeholders in the future.
This Summit served as the initial meeting to explore the complex issue of wildlife and transportation conflict. It was intended to set the stage for future engagement with a broad array of interested partners, stakeholders and the general public. More than 160 people attended the Summit, including leadership, upper management, and staff from state and federal agencies, tribal nations, non-governmental organizations, and local government.
Montana Wildlife and Transportation Summit Final Report
---
Committees, Teams, and Working Groups
Summit participants collectively developed a series of recommendations for further action to carry the momentum generated at the Summit forward into tangible outcomes. The first recommendation was to create a collaborative structure of committees and/or work groups to provide the capacity to plan for and implement wildlife accommodations, as well as define roles and responsibilities.
Meetings
Meetings
---
Guiding Documents
A series of documents will be developed to guide efforts developed at the Summit, primarily pertaining to priorities, information sharing, education and outreach, and funding. The guidance documents will establish consistency in identifying priorities at the local, regional, and district levels and serve to continue to build trust and improve working relationships among agencies, tribes, NGOs, and other stakeholders.
Memorandum of Agreement Between FWP and MDT
Communications Strategy
Administrative Policies, Procedures, and Guidelines
Data and Information Work Group Mission Statement
---
Information Sharing
These resources are related to wildlife and transportation in Montana. The PIT Crew will review all content prior to posting.
Brochures
MDT Wildlife Friendly Fencing Brochure
MDT Wildlife Accommodation Process - Desk Guide
Completed Research Studies
MDT Environmental Research Studies
---
Summit Presentations
The Summit agenda was structured to answer three main questions:
Where Are We Now?
Where Do We Want To Be?
How Do We Get There?
Participants worked to answer these questions through a series of presentations and breakout sessions intended to strengthen relationships while inspiring strategies for greater collaboration in planning and implementing wildlife accommodations. Presentations throughout the Summit were a means of recognizing and building on common ground among participating organizations in terms of their missions, mandates, constraints, and internal processes. The presentations also helped to develop a shared understanding of the challenges associated with wildlife and transportation considerations, as well as successes and opportunities illustrated by examples from other states and partnerships.
Summit Presentations:
MDT – D Rouse and T Martin, MDT
MSWP – L Craighead and R Callahan, MSWP
Snoqualmie Pass – B White and P Garvey-Darda, Washington State
Wildlife Movement and Transportation – J Gude, FWP
CSKT - US 93 Partnership – D Becker
CSKT - US 93 What's Next – W Camel-Means
---
Contact Us
Deb Wambach | Bill Semmens | Tom Martin