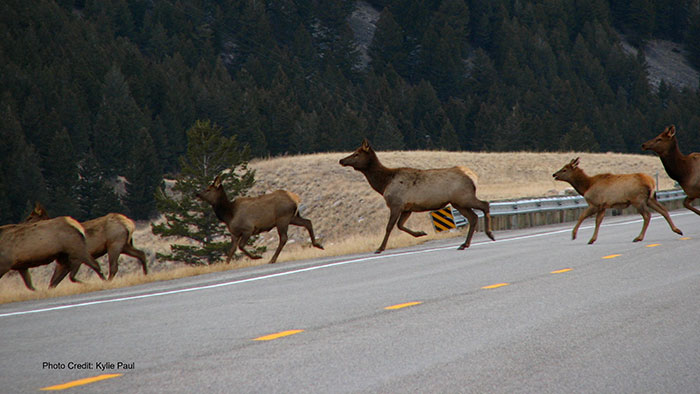 Elk crossing the road. Photo credit: Kylie Paul
Montana is a big state with long highways connecting our towns, transporting goods and services, and allowing residents and tourists to visit our world-class destinations. Montana is also home to robust populations of big game animals, rare federally listed species, and small animals, which sometimes cross highways searching for food, shelter, or seasonal habitat.
Montana has one of the nation's highest wildlife-vehicle collisions per capita. Each year, maintenance crews collect more than 6,000 wildlife animal carcasses and Montana Highway Patrol responds to an average of 3,200 wildlife-vehicle collisions annually. These collisions usually result in the death of the animal, and cause property damage and sometimes personal injury or even fatalities. Busy highways can also impede wildlife movements as they move across Montana's diverse landscapes to meet their many needs for survival.
Committed to actively addressing conflicts between wildlife and our state highways, the Montana Department of Transportation (MDT), Montana Fish, Wildlife, & Parks (FWP), and Montanans for Safe Wildlife Passage (MSWP), have formed the Montana Wildlife and Transportation Partnership (MWTP). After years of planning, the MWTP now provides a new innovative planning tool and statewide project program to inform and implement collaborative work seeking to prevent these tragic and costly crashes and increase the connectivity for Montana wildlife.
The MWTP Planning Tool is intended to assist stakeholders in identifying areas of need to focus coordinated resources and expertise for further analysis and aids in developing project-level recommendations across our state. The MWTP Project Program establishes an avenue for public-private partnerships to propose and implement wildlife accommodation projects across our state highways.
Interested in MWTP updates, events, or news? Subscribe here.
Contact Us