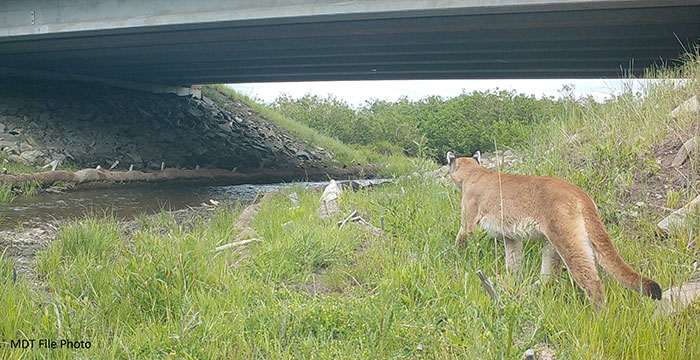 Mountain Lion crossing under bridge. Photo credit: MDT
The Montana Wildlife and Transportation Summit (Summit) was held on December 4-5, 2018, in Helena, Montana. The purpose of the Summit was to bring stakeholders together to strengthen working relationships, share information, develop strategies to plan and implement wildlife accommodations, reduce wildlife-vehicle collisions, and protect wildlife and their movement across state highways. The emphasis of the gathering was to build common ground around wildlife and transportation issues to enable robust engagement of interested stakeholders into the future.
Following the December 2018 Summit, the Montana Department of Transportation (MDT), Montana Fish, Wildlife & Parks (FWP), and Montanans for Safe Wildlife Passage (MSWP), a coalition of conservation non-governmental organizations focused on wildlife and transportation issues, formed the Montana Wildlife & Transportation Partnership. The Partnership seeks to turn the recommendations from the Summit into action and build a foundation of resources, information, and knowledge for broad stakeholder engagement in addressing wildlife and transportation challenges in Montana.