Overview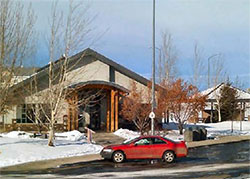 The Montana Department of Transportation (MDT) has updated the Montana Rest Area Plan, which was last revised in 1999 and amended in 2004. The plan represents MDT's commitment to preserve and enhance the existing rest area facility system. The plan provides recommendations that will aid MDT in planning for and prioritizing rest area needs. MDT will use the plan to identify maintenance and improvement projects necessary for Montana's statewide rest areas.
Final Plan
Montana Rest Area Plan
Appendix A - Map of Existing and Proposed Rest Areas
Appendix B - Technical Memorandum
Appendix C - Public and Stakeholder Involvement
The plan considers state-maintained rest areas, state-maintained parking areas, city park rest areas, and sites maintained by other entities. These facilities play an important role in highway safety, which supports MDT's safety agenda of Vision Zero, moving towards zero deaths and injuries and creating an environment where all highway users in Montana arrive safely at their destination. Activities such as walking and stretching, using a restroom, stopping for a meal, sleeping, or using a mobile device aid in reducing driver fatigue and potentially reduce fatigue-related crashes.
Using existing available information, the plan identifies a 40-year rest area service demand for parking, building, and water/wastewater facilities. Health index scores assist in determining the adequacy and availability of services provided at state-maintained rest areas. The plan uses methodology described in the 2011 Montana Rest Area Use: Data Acquisition and Usage Estimation report , with modifications incorporating site-specific door count data (where available) in place of recommended default values to assess demand.
The plan emphasizes building and site preservation to extend the service life of existing structures and utility systems, and identifies improvements to meet parking and building demands. These efforts emphasize the Statewide Rest Area Prioritization Plan Committee's asset management approach in determining the prioritization of individual rest area projects.