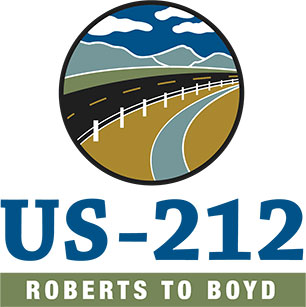 Project Overview
US 212 stretches across 167 miles of eastern Montana, connecting tourists to Yellowstone National Park and the scenic Beartooth Mountains. The highway is also an important route for residents, farmers and ranchers traveling to Billings and nearby rural communities.
The 8-mile stretch of US 212 between Roberts and Boyd, Montana was originally constructed in the 1930s. Since its installation, the aging highway has experienced routine maintenance but now must be fully reconstructed to meet the growing needs of residents and tourists. The Montana Department of Transportation has contracted with engineering firm Sanderson Stewart to develop a roadway design for this important section of highway.
This project, known as US 212 – Roberts to Boyd, is part of a larger corridor reconstruction effort. Residents may be familiar with the Roberts project, which was constructed in 2020. Two additional sections remain, including the Robinson Lane to Two Mile Bridge Road improvements in Red Lodge, and the US 212 – Red lodge to Roberts project, which extends from Two Mile Bridge Road to the boundaries of the Roberts project, near West Bench Road.
US 212 between Roberts and Boyd will be designed to improve operations and safety. These improvements will include:
Reconstruction and rehabilitation of approximately 8 miles of roadway.
Widening of this section of US 212 to include eight-foot shoulders on either side of the highway.
Approximately 1.5-miles of side by side northbound and southbound passing lanes separated by a center two-way-left-turn lane.
Areas where the slope of the highway will be raised to improve snow drifting and sight distance, and avoid wet conditions.
Updated intersections including:

A northbound, left-turn lane and southbound widened thru-right turn lane onto Boyd Cooney Dam Road. An example of a widened thru-right turn lane is below:
A realignment of the Main Street intersection in Boyd to be more perpendicular to the highway, as well as a southbound left-turn lane on US 212 at the intersection.

Curb and gutter outside of the roadway ditch to delineate the Boyd Country Store parking lot from the highway.
Redesigned roadway ditches to improve drainage capacity and snow storage.
Relocation of irrigation ditches outside of new right-of-way. Drainage ditches will be separated from irrigation ditches where appropriate.
Removal of trees and shrubs that are currently located in the existing right-of-way to promote safety and unobscured visibility.
New drainage and irrigation culverts; replacement and potential upsizing of several large culvert crossings.
Bridge deck repairs at the Rock Creek bridge by Clear Creek Road.
Guardrail replacement near the Rock Creek Bridge.
Standard rumble strips will be installed along both shoulders and along the centerline of the highway.
Funding for this project's construction has not yet been identified. A combination of federal and state funding is needed to begin work. The project team is working to complete design plans and secure all necessary right-of-way acquisition. Once plans are complete, the project will be considered for funding and will move toward construction. This process can take several years. The availability of funding will determine when the construction will occur.
What can residents expect before and during construction?
MDT welcomes feedback from residents throughout the project process. However, the closer a project is to construction, the more difficult it is to incorporate changes. As such, all are encouraged to reach out with any comments or concerns early, before orange cones start dotting the highway.
Big Sky Public Relations is available to answer questions, provide information, and hear your thoughts throughout the project process. Prior to construction, updates will be sent out quarterly and as milestones occur. Once construction season begins, updates will occur weekly and more frequently as important changes occur.
We are here to help throughout this process. Please feel free to contact us below!
Email: Contact Sloane to subscribe for updates, ask questions, or submit a comment
Project Hotline: 406-207-4484, answered by a member of the Big Sky Public Relations staff Monday – Friday, 9 AM to 5 PM
Mail: C/O Big Sky Public Relations, PO Box 732, Bozeman, MT 59771
UPN 4375004