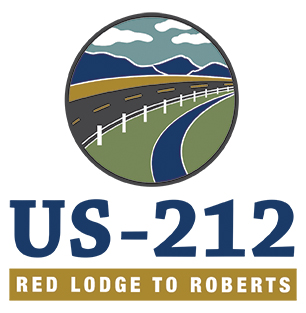 Project Overview
The US 212 corridor is a major thoroughfare, transporting residents through rural agricultural lands to the city of Billings and beyond. It's also a major highway for tourism, as in- and out-of-state visitors come to visit Red Lodge for its unique appeal (including rodeos, parades, motorcycle rallies, skiing, etc.), travel to the Cooke City gate of Yellowstone National Park, or take scenic drives along the famed Beartooth Highway.
The section of US 212 between Red Lodge and Roberts was originally constructed as a dirt/gravel road in 1933. In 1983, it was noticeably improved (overlaid with fresh asphalt) to accommodate larger, faster vehicles. It was then repaved in 2002 but has not received notable improvements since that time. Meanwhile, the beauty of the Treasure State has drawn many to this area, steadily adding to the population and increasing tourism. To accommodate the growth in roadway users over the past 20 years, and address the safety and reconstruction needs of this corridor, the Montana Department of Transportation (MDT) launched the US 212 – Red Lodge to Roberts project.
Many residents may have noticed that the US 212 corridor between Red Lodge and Laurel has undergone substantial reconstruction efforts in recent years. The Red Lodge to Roberts project will connect to the recently completed Roberts project, and additional plans to expand US 212 between Roberts and Boyd, as well as from Robinson Lane in Red Lodge to Two Mile Bridge Road, are currently being developed. The US 212 – Red Lodge to Roberts project extends nearly 10 miles between the towns of Red Lodge and Roberts, from just north of Two Mile Bridge Road to a half-mile outside of Roberts, near West Bench Road.
The major improvements of this project include:
Reconstruction and rehabilitation of nearly 10 miles of roadway.
Widening US 212 to include eight-foot shoulders on both sides of the highway.
Adding four miles of passing lanes at two locations: two miles of northbound passing lanes from mileposts 72.5 to 75 (approximately between Kent Lane and Moon Beam Lane), and nearly two miles of southbound passing lanes from mileposts 79.5 to 81 (nearby Moose Tracks Drive and Bertolino Lane).
Adding a school bus turnout/weigh-scale site approximately one mile north of Fox East Bench Road.
Improving drainage and irrigation to reduce flooding. This includes adding flat bottom ditches along the majority of the highway to allow for draining and to provide snow storage.
Six concrete box culverts and numerous other drainage and irrigation pipes will be constructed to allow water to flow under the road.
Adjusting the vertical profile of the highway in key areas to allow drivers to see further.
Minor alignment shifts to minimize impacts to properties and environmental resources.
Adding rumble strips on the centerline and shoulders of the road.
Improving public and private intersections to allow for safer turns on and off the roadway.
This project currently lacks the funding needed from the federal government to be done immediately. Transportation projects in Montana are only minimally funded by the state, and thus federal funding is critical. Despite this, MDT and engineering contractor Sanderson Stewart know how important this project is to the community and are working hard to finish project plans and identify funding sources as early as possible. As of 2022, engineers have designed project plans and are finalizing right-of-way agreements with landowners, securing the space needed for the various improvements and to expand the highway's capacity. The project is anticipated to be fully finalized and shovel-ready by 2023. The availability of funding will determine when it is built beyond that time.
Project Map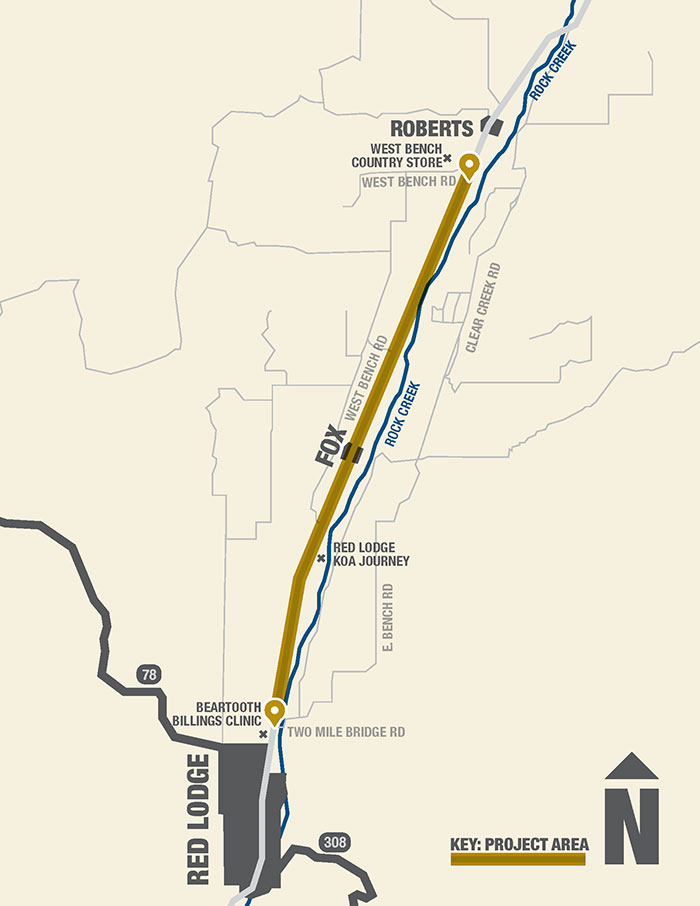 Click on the image for a larger view
What can residents expect before and during construction?
MDT welcomes feedback from residents throughout the project process. However, the closer a project is to construction, the more difficult it is to incorporate changes. As such, all are encouraged to reach out with any comments or concerns early, before orange cones start dotting the highway.
Big Sky Public Relations is available to answer questions, provide information, and hear your thoughts throughout the project process. Prior to construction, updates will be sent out quarterly and as milestones occur. Once construction season begins, updates will occur weekly and more frequently as urgent changes occur.
We are here to help throughout this process. Please feel free to contact us below!
Email: Contact Sloane to subscribe for updates, ask questions, or submit a comment
Project Hotline: 406-207-4484, answered by a member of the Big Sky Public Relations staff Monday – Friday, 9 AM to 5 PM
Mail: C/O Big Sky Public Relations, PO Box 732, Bozeman, MT 59771
UPN 4375002