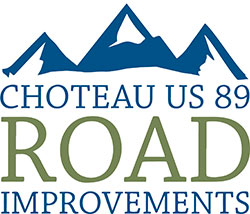 Project Overview
MDT is currently redesigning three segments of US 89. These sections include roughly a seven-mile segment just north of Choteau, and two segments about six miles each just south of Choteau city limits.
All three segments will have similar improvements. The updated design will improve the overall alignment. All segments will be repaved. The curves will be gentler and roadside slopes will be less steep. The shoulders will become slightly larger. There will be more passing opportunities. In a few areas, there will be extra large shoulders to stop and view the wildlife. The Teton River bridge will also be replaced.
Specific roadway improvements include:
Updated design.
Improve the alignment and pavement.
New bridge.
Upgrade the bridge over the Teton River.
Passing opportunities.
Provide more options for passing slow vehicles.
Wider shoulders.
Create more space along the highway which also means a larger buffer for bicyclists.
Gentler curves.
Reduce the sharpness of the existing curves.
Wildlife pullouts.
Places to stop and view the wildlife in the Freezout Lake Wildlife Management Area.
Resetting two historical markers:
a. Old Agency on the Teton.
b. Blackfeet and Buffalo.
Updating signage and pavement markings.
Rumble strips.
Place rumble strips on the shoulders next to the lane edge and between lanes.
Improving drainage.
Click to view the PDF which can be enlarged.
Purpose & Benefits
The US 89 corridor has been scheduled for reconstruction to better accommodate the array of uses (recreation and passenger vehicles, trucks, and bicycles). The following key factors will be addressed:
Outdated design standards.
Limited passing opportunities.
Narrow shoulders.
Sharp roadway curves.
Poor traffic flow.
Moderate-to-high potential for crashes.
Project Status and Anticipated Timeline
Click to view the PDF which can be enlarged.
2020-2021: Design and information gathering
2022-2024: On-going design, permitting, and property acquisition
2023-2025: Expected construction. Advertising for the construction contract. Construction in segments as funding allows.
How You Can Participate
The Montana Department of Transportation recognizes the impact road projects can have. We are committed to keeping the public informed during the process.
Subscribe to get construction updates and traffic information.
Text: "Choteau" to 844-764-2126*
Email: Choteau@kljeng.com
Online: Fill out the Comment Form.
Indicate Comments are for project UPN 8965000
*Note: Msg and data rates may apply. 4 msg/month. Reply STOP to opt-out anytime. Reply HELP for help. Texting alerts are not managed by MDT and may have different privacy and security policies. For more information read the SimpleTexting Terms and Privacy Policy
UPN 8965000