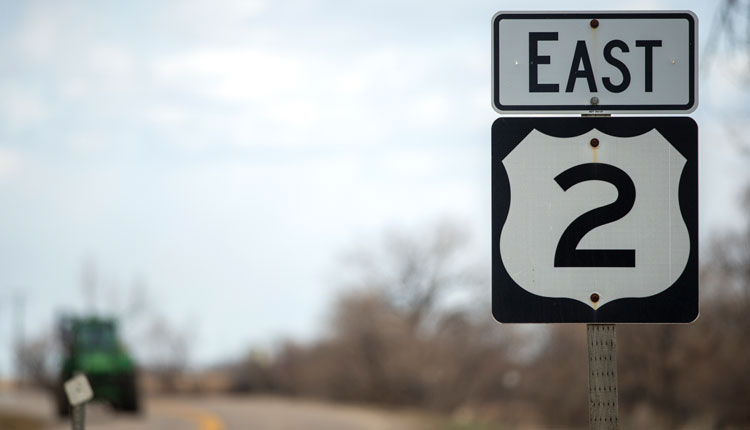 Project Overview
The Montana Department of Transportation (MDT) will be reconstructing seven miles of US 2 between Zurich and Harlem to improve roadway safety. The project begins at Eight Mile Road, 2 miles east of Zurich, and ends just west of Harlem. The existing railroad tracks generally run parallel and north of the highway, and the Harlem Canal runs parallel and south of the highway. These improvements will enhance roadway safety and improve service to local communities, agriculture, industry, commerce, and tourism along US 2.
MDT may shift parts of the roadway south to minimize impacts on the railroad during the widening process. The widening process along this section of US 2 will allow MDT to achieve a modern, 40-foot top width roadway, including 12ft travel lanes and 8ft shoulders, with the potential for passing lanes.
This is a design phase project. The design phase will take 4-5 years and allow MDT to collect various data that informs construction plans. Construction is estimated to begin after 2024.
Project Timeline and Cost
This project is currently in the design phase. It will likely be let for construction in December of 2024. Similar projects cost between $2 and $3 million per mile to build.
Impacts on the Public
During the design phase, impacts to the public will be minimal. Motorists may see periodic traffic control measures with reduced speeds and flaggers during field and survey work.
During construction, the traveling public should expect one-lane traffic with flaggers during regular work hours and two-lanes open during nights and weekends.
MDT will work closely with the traveling public to ensure that wide loads, pedestrian and bicycle traffic, mail delivery, business accesses, and school bus routes are accommodated throughout construction.
NH 1-2(55)417
UPN 9221000