Design of the Single-Lane Roundabout is underway
MDT and the City of Kalispell evaluated options to improve the intersection of 2nd Street East/Conrad Drive and Woodland Avenue and determined that the safest and most efficient way to reduce the number and severity of crashes is to use a small single-lane roundabout. Key design features include:
It fits within the public right-of-way and is not significantly larger than the existing intersection
Improved intersection safety

Better sight distances (ability to easily see on-coming cars to avoid colliding with them) at all approaches to the intersection.
Reduces the number of conflict points – drivers only have to look one direction for on-coming traffic
Slower speeds through intersection

Improved crossings for people walking and biking
It has a traversable center island to accommodate school buses and other larger vehicles like trucks with trailers and RVs
It is a cost-effective investment that will last far into the future. The roundabout will efficiently handle traffic volumes for the next 20 years without additional investments
Additionally, the route is an emergency route and maintained by the City to include deicing and plowing to pavement.
Watch for future open houses to learn more about the design. Construction is tentatively planned for 2025.
Please visit the FAQ page to learn more and the Public Involvement page to find a summary of past public outreach events and comments.
Project Overview
The Montana Department of Transportation (MDT) and the City of Kalispell are evaluating options to improve the intersection of 2nd Street East/Conrad Drive and Woodland Avenue. The two primary goals of the project are to:
Improve safety for all roadway users including people walking and riding bikes
Minimize impacts to adjacent properties
The City of Kalispell has seen 15.7% population growth between 2010 and 2017. It's no wonder this busy intersection continues to see an increase in vehicular traffic as well as pedestrians and cyclists. It serves:
Adjacent neighborhoods
Commuter traffic
Local businesses
Woodland Park and its popular swimming pool
Heritage Park
Woodland Montessori School
Cornelius Hedges Elementary School
Conrad Mansion Museum
Safety for all roadway users is a priority for MDT. The current intersection configuration does not work as well as it used to when traffic volumes were lower. A study of crash trends indicates a growing concern and by planning now, MDT's goal is to reduce the frequency and severity of crashes.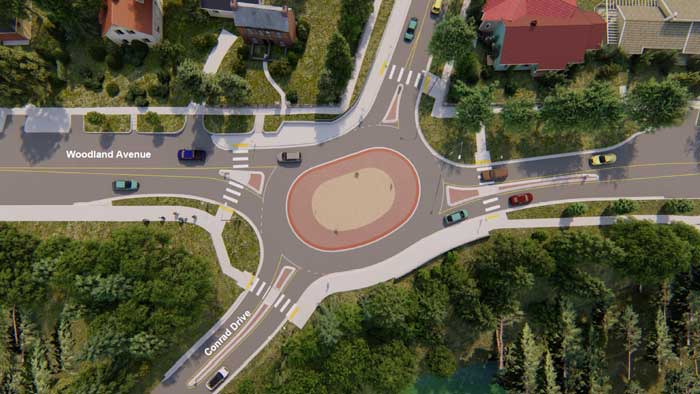 Woodland and 2nd Street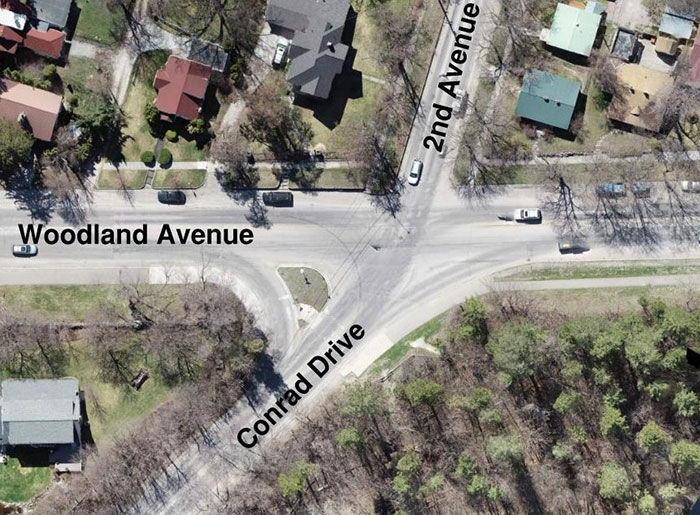 Woodland and 2nd Street Existing Intersection